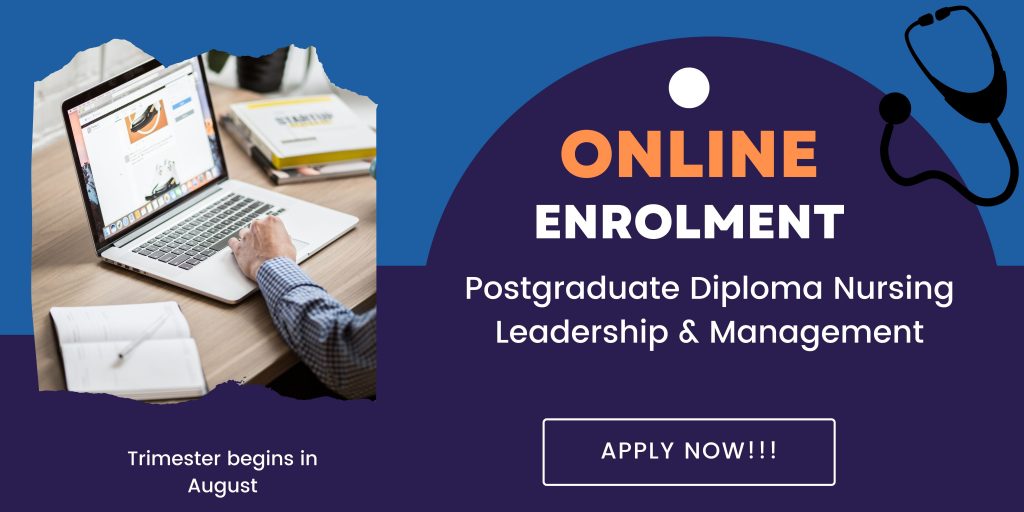 The Postgraduate Diploma in Nursing Leadership and Management focuses on the principles of management and leadership in the delivery of healthcare. A historical overview of leadership and management theories assists the student in understanding legal and ethical implications of the role of professional nurse in regard to client care, staffing, budgeting, quality improvement, and other issues. Management concepts and skills are stressed to promote individual and group satisfaction within the work environment. Additionally, content includes current issues and trends in nursing leadership and management and the contribution of the professional nurse to today's society.
AIM:
The programme is aimed at nurses who want to develop their knowledge, skills and qualities to become effective healthcare leaders.
Objectives:
Understand theoretical knowledge of leadership and management in nursing and its application in practice
Enhance leadership qualities based on continuous professional development that promotes life-long learning
Strengthen research skills to enhance practice based on current evidence to review guidelines and policies
Manage and negotiate health care delivery and support systems in times of crises
Be familiar with the process of developing plans at different levels of services within the organization/ Ministry.
AWARD STRUCTURE
To be awarded the Postgraduate Diploma of Nursing Leadership and Management, learners are to successfully complete the six following prescribed courses:
Principles and functions of nursing management
Organizational management in nursing
Nursing leadership in the 21st century
Human resource management in nursing
Evidence-Informed Practice in the Development of Policies, Protocols and Guidelines in Nursing
Strategic management in nursing
LENGTH OF THE PROGRAMME
The program is trimester based and can be completed over 1 to 2 years.
Applicants must possess both of the following to be eligible for entry into this programme:
ENTRY REQUIREMENTS
Bachelor of Nursing Science; and

Minimum of 4 years of nursing experience
PROFESSIONAL/LICENSING REQUIREMENTS
The program had been approved by the Fiji Nursing Council and the Fiji Higher Education Commission.
DELIVERY MODE & LEARNING METHODS
The programme will be delivered online.
FEES
$950 per course
PROGRAMME STRUCTURE:
The Postgraduate Diploma in Nursing Leadership and Management is a 120-credit program which consists of six compulsory courses.
| | | |
| --- | --- | --- |
| Course | Course Title | Credit Points |
| Nur811 | Principles and functions of Nursing Management | 20 |
| Nur812 | Organizational Management in Nursing | 20 |
| Nur813 | Nursing Leadership in the 21st Century | 20 |
| Nur814 | Human Resource Management in Nursing | 20 |
| Nur815 | Evidence-Informed Practice in the Development of policies, Protocols and Guidelines in Nursing | 20 |
| Nur816 | Strategic Management in Nursing | 20 |
BRIEF SUMMARY OF THE COURSES:
1) NUR811: PRINCIPLES AND FUNCTIONS OF NURSING MANAGEMENT
This course aims to develop the student's ability to utilize the principles and functions of management in nursing in a diverse working environment. This course will further enhance the management skills of those aspiring for nursing managerial positions.
2) NUR812: ORGANISATIONAL MANAGEMENT IN NURSING
This course aims to develop the student's ability to optimize resources through meticulous planning and control at the workplace. Organization management will provide participants with a sense of direction with good governance. The participants will learn to be more organized with practical time management skills.
3) NUR813: NURSING LEADERSHIP IN THE 21ST CENTURY
This course will develop the student's ability to lead and manage nurses as team leaders and nurse unit managers. Students will develop constructive behaviors associated with nursing leadership that will influence patient care and organization outcomes and allow experienced nursing leaders to enhance their skills and ability to lead, manage, and develop good followers, with passion and meaningful purpose. Conceptual leadership models will be explored to enhance the role of clinical leadership.
4) NUR 814: HUMAN RESOURCE MANAGEMENT IN NURSING
Participants completing this course will develop skills to lead and manage people. Proper management of human resources is critical in providing a high-quality healthcare. Participants will develop skills for effective human resources management that are greatly needed to achieve better outcomes for nursing care.
5) NUR815: EVIDENCE-INFORMED PRACTICE IN THE DEVELOPMENT OF POLICIES, PROTOCOLS AND GUIDELINES IN NURSING
This course will enhance the participant's ability to utilize the policy and protocol development principles concerning nursing management and leadership using empirical evidence. Participants will learn to develop and critically analyze policies and guidelines applicable to health services.
6) NUR816: STRATEGIC MANAGEMENT IN NURSING
This course aims to develop participants' skills to undertake strategic planning. Nursing leaders will create a vision, short term and long-term goals and identify necessary strategies to accomplish an organization's mission. Resource allocation based on ethical decision making will also be explored.